We're finally getting an Artemis Fowl movie, and here's a look at the cast that has been announced so far! So, according to sources, the movie has now been fast-tracked with Harvey Weinstein kicked off the production team for being you know…Harvey Weinstein…and the release date is set for August 9, 2019. Yes, I've already put it on my G-Cal. Also, Kenneth Branagh is signed on as a producer. What movie isn't that man involved with these days?
If you didn't read the Artemis Fowl books growing you, you really should go back and read them now, because it's all about a child mastermind and his foray into the world of faeries to save his family. He's got a kick-butt body guard, there are strong female leads, and lots of fun spy stuff going on. Pick them up wherever books are sold ASAP. There are seven books in the series.
Here's a look at the cast of the Artemis Fowl movie while we anxiously wait for a trailer.
Ferdia Shaw as Artemis Fowl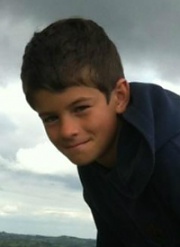 Josh Gad as Mulch Diggums
Laura McDonnell as Holly Short

Nonso Anozie as Butler
Judi Dench as Commander Root